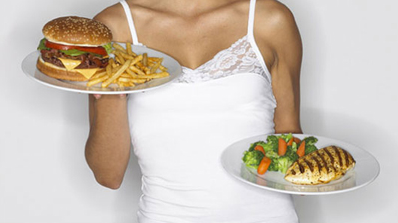 Would you like to lose fat and gain muscle? Would you like to change your body composition and improve your health? Most of us would. I've had countless conversations with people looking for answers to these questions. I'll explain my complete fitness and nutrition plan but in the end, most people will return to the same question. What should I eat?
It's not only a great question; it's the most fundamental question. Whatever your health and fitness goals might be, good nutrition in 80% of the solution. As I say in my book,
Get Fit, Lean and Keep Your Day Job
, you can train like an Olympian but if you eat junk, it will hardly matter. Good nutrition is the foundation of any transformation plan as well as an ongoing healthy lifestyle plan.
So, what should you eat? The simple answer is that you should eat quality real foods. What does that mean? First, let me explain what I mean by real foods. Whole intact foods that have not been processed or refined are real foods. Real foods can be found on the peripheral of the grocery store because they don't come in a box, can, or shrink wrapped packaging. Real foods are foods that through millions of years of evolution, us humans are perfectly designed to consume. Whole intact meats, fish, eggs, fruits, and vegetables are real foods.
Next, let me explain what I mean by quality. Mass-market meats containing antibiotics and hormones are not quality foods. Fruits and vegetables sprayed with pesticides and herbicides are not quality foods. Deep fried items served to you in your car through a drive through window are neither quality nor real foods. Organic, natural, sustainable, and locally grown foods
are
quality real foods.
Lets talk about other foods that are neither real nor quality foods. It's important to point out that just because a grocery store sells it, and you can eat, and a TV commercial calls it food, doesn't make it real food. What foods are not real foods? Read labels, if it contains any unpronounceable ingredients, it's not real food. If your grandmother wouldn't recognize it as food then it's probably not real food. If humans haven't evolved to eat it, then it's not real food.
How do you know if we've evolved to consume something as food? For the first four to six million years of our existence, give or take a million years, we only ate whole intact foods. Mankind domesticated plants about ten thousand years ago and began farming grains. We began producing and distributing flour and sugar on a mass scale only a few hundred years ago. Recent history.
Enriched flour is made my stripping off the husk, bran and germ, which leaves only an energy value. Common sugar or sucrose also contains only an energy value. Both of these refined carbohydrates contain no nutritional value, only an energy value better known as calories. We are designed to store excess energy as fat; it's an evolutionary survival mechanism that served our caveman ancestors well. Eating refined carbohydrates floods your bloodstream with insulin. Your fat cells react by absorbing as much blood sugar as possible as stored fat. Your liver also reacts by storing fat which leads to inflammation which then leads to inflammatory diseases such as type II diabetes, hypertension, heart disease, and dementia to name a few. The message here is pretty straightforward. Stop poisoning yourself with refined carbohydrates. Eat quality real foods.
I enjoy cooking and have the time to meal prep a variety of meats and vegetables for the week. Most days I take my lunch to work so I'm able to eat quality real food for every meal. I understand that not everyone is able to do so. Some people don't have the time, or don't enjoy cooking, or simply aren't sure what to eat. There are alternatives to doing your own meal prep. Take my friends at
Power Supply
for example, they deliver nutrient dense meals made with quality real foods. Currently, they are servicing Los Angeles and Washington D.C. and will be expanding to other cities soon.
Whether you prepare it yourself or have it delivered, I hope I've answered the question, what should I eat.
Yours in Fitness,
JD