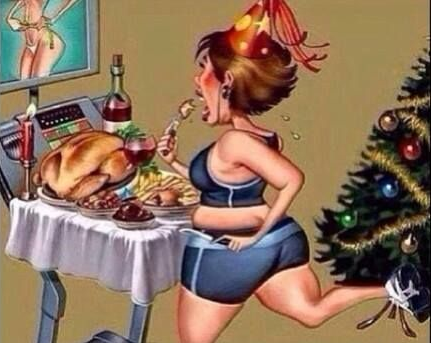 The holiday eating season is nearly upon us again. For many of us, the festivities revolve around traditional feasts. Most people will kick it off by celebrating with a Thanksgiving meal fit for a king. I know I will. But this doesn't mean that you have to gain several unwanted pounds and then find yourself struggling to lose the extra mass in January. With the right strategy, you
can
indulge and enjoy the seasonal feasts without adding unwanted inches to your waistline.
Thanksgiving Day wouldn't seem right if I didn't stuff myself with turkey, mashed potatoes, stuffing, gravy, cranberry sauce, and pumpkin pie. If you believe in the idea of an occasional cheat meal then T-Day is it, the granddaddy of all cheat meals. Throughout most of the year I follow a fairly strict nutrition plan, but I admit to chucking it out the window for Thanksgiving and Christmas Dinner. If a turkey dinner with all the fixings is part of your holiday tradition, then go for it. Enjoy it guilt free, just don't continue the over indulgence straight through to New Year's Day. You can avoid plumping up over the holidays by developing a smart game plan now.
Frame your strategy like this. You've got three weeks until the start of the holiday season. If we define the season of overindulgence as Thanksgiving through New Year's, then it's a five week long minefield of continuous calorie bomb loaded meals that you'll have to navigate. You could wear a blindfold, avoid all social gatherings and lock yourself in your house alone for five weeks, but that wouldn't be very fun. You don't have to be a hermit; get out and attend all the holiday dinners, parties, and shindigs -- but DO have a strategy in hand.
You're going to eat a lot, probably more calories than you do the rest of the year. Your strategy should be twofold. First, think about total calories on the day of the event and total calories for the week. Second, decide carefully from what foods those calories will come from. Tighten up your nutrition plan now and eat super clean between now and Thanksgiving. If you're not familiar with my program, it's outlined in my book;
Get Fit, Lean and Keep Your Day Job.
Following a disciplined plan between now and the big feast in three weeks means that you'll enjoy it even more. Eat super clean the week of the event and then on the day of the event, save the majority of your calorie intake for the big meal. Three weeks of self-control and the big dinner will be all the more special.
When you do sit down to indulge, choose wisely. Pile the turkey on your plate, it's a great source of protein. Pile the green vegetables and salad on your plate because you can never really eat too much green vegetables. Your strategy should be to fill up on the reasonably healthy items as much as possible. Next, if you're a potato fan then take a reasonable portion of mashed potatoes. Your strategy for dealing with the decadent offerings should be to think of them as samplings. The smell of the stuffing is intoxicating so have a single portion then pass the platter on. The delicious smell of the gravy is also intoxicating. Have one ladle then stop, you don't have to drown your plate in gravy. The cranberry sauce taste amazing but its pretty much candy so have one or two spoon fulls then pass it on. Use the same strategy with pie and other deserts. Pick the one you like best and have one reasonably sized portion then stop. You get the picture.
Holiday cocktail parties usually mean a spread of appetizers and other finger foods. Again, choose wisely. Scope out the offerings and pick the meats, cheeses, and vegetables. Avoid the crackers and breads. Think of it as a microcosm of your healthy daily nutrition plan and avoid any refined carbohydrates. Instead, snack on the proteins, fats and any complex carbs there may be. Of course if you choose to drink alcohol then you're consuming a lot of empty calories not to mention you'll be much more likely to use bad judgment. If you do drink, try to do so in moderation.
Thanksgiving dinner, Christmas dinner, company holiday parties, and other holiday events are prime temptations to overindulge. I recommend marking on your calendar the three to five meal events that you're going to attend over the five week holiday season then eating super clean in between and ramp up your cardio exercise. Earn it. This strategy will enable you to take part in all your favorite holiday festivities and stride into January with minimal scale and waistline damage. Make the indulgent meal events special, not everyday affairs.
There's no reason you have to spend January and February wrestling with fat loss and crash diets trying to make good on your New Year's resolution to lose weight. Follow my survival plan and you can get through the holidays with your body intact.