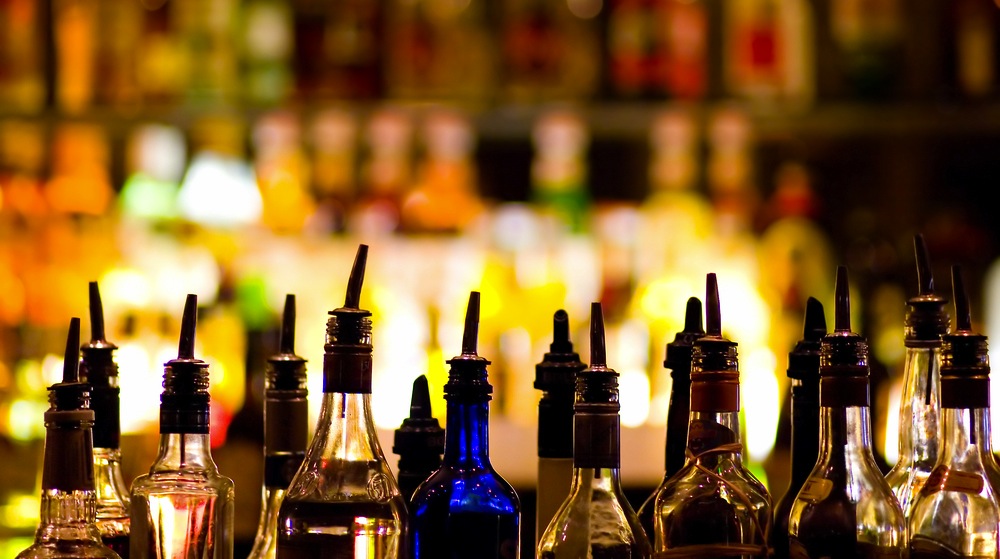 Guest Blog by Steve Welch, successful Get Fit, Lean program follower
I was talking to a facebook friend who messaged me about the Get Fit, Lean and Keep Your Day Job program. He was impressed by my before and after pics that I had posted on my page, and wanted to know more details about the program. So I outlined the basics, gave him some examples of foods to eat and avoid, and then recommended he read JD Griffin's book for more in-depth information on the facets of nutrition, cardio and resistance training.
Then he asked me, "What about booze? Will I have to stop drinking? I don't know if I can give up my wine. Did you give it up?" Although I appreciated his honesty and directness, I had to stop and think about how to best frame my answer.
I did avoid alcohol as much as possible during my initial 12-week fat-loss phase. And I would STRONGLY recommend that anyone who's trying to make an impactful change should do the same. But I didn't live like a monk, either. I like to drink and I do it socially. And so I tried to figure out a way to have my cake and eat it too (or in this case, have a couple beers and not negatively impact my transformation).
So, while I was doing my initial 12-week transformation I was pretty darned strict. I limited my alcohol consumption to once a week, and even then, I planned it as part of my weekly cheat meal. There really isn't a place for frequent boozing in your nutrition plan if you're trying to maximize your fat loss. But let's be honest, a little bit isn't going to kill you or derail your whole program.
Prior to doing the Get Fit, Lean program, I was someone who drank multiple times a week – usually food-oriented drinking (a couple beers at a burger joint, a nice red wine with a grilled out steak, a margarita or two with some Mexican food, and so on). And you know what? Alcohol has calories. And that frequent alcohol consumption definitely contributed to my slow and steady weight gain that had me close to 190 pounds a year ago and sporting a bit of a gut.
If you're trying to get really fit and lean, alcoholic beverages aren't going to mesh into your lifestyle very well for a variety of reasons that I'll get to shortly. On the other hand, we live in an socially oriented alcohol-fueled society and unless they're in serious training for an athletic event, most people are not going to stop drinking completely. My own personal goal was to get into great shape for my 50th birthday and beyond, not to live like a monk and forsake everything I enjoyed – and I succeeded, which simply proves that it's possible to find that balance.
But that begged a couple questions – how much is too much? Is any amount of alcohol "OK" for the purposes of this program? I did some research to find out more about the effects of alcohol in terms of weight gain, fat loss, calorie burning, etc. And I found some interesting stuff.
The Effects of Alcohol on Your Fitness
There's a great article on the hardcore bodybuilding site T-Nation called "The Lifter's Guide to Alcohol" that takes a real scientific look at how alcohol impacts a number of aspects, from muscle performance, fat burning, and the effects on your hormone levels and endocrine system. You can read the whole article here:
http://www.t-nation.com/diet-fat-loss/lifters-guide-to-alcohol
. But I'll try to summarize a few of the key points that are relevant for fat loss and general fitness, since most people doing this program are not competitive weight lifters.
Fat Loss and Alcohol Consumption
So many factors make this a little confusing and controversial. Some studies indicate that your body chooses to burn alcohol calories first (your body doesn't store the by-products of alcohol as fat, even though many people think it does). But what that means is, your body isn't burning the other calories you're consuming and THOSE calories may be more likely to be stored as fat. So basically alcohol may be more accurately classified as a suppressor of fat loss rather than thinking of alcohol as a substance that will be stored as fat if you consumer it. But the effects on fat retention also depends on WHAT you're drinking. A sugar and calorie-laden margarita is setting you up for that insulin spike and subsequent fat storage that JD describes so accurately in his book, and as a result those calories from the drink, in addition to any food you might be consuming as well might well end up on your waistline and thighs rather. The T-Mag article I referenced above recommends that you consume protein when you're drinking and avoid carbs and fats, so that you minimize the likelihood of those calories being stored as bodyfat. This supports the Get Fit, Lean nutrition plan recommendation of a low carb and high protein nutrition plan. They also recommend that you stick with beer over other spirits, because of its low glycemic impact.
The other thing about alcohol is it can impact your mental and emotional inhibition system, meaning you may be more likely to have cravings and eat junk you wouldn't normally eat when you're under the influence of alcohol – this is a real concern when you're on a program like this and trying to eat effectively and smartly. Some legitimate studies have shown that drinking alcohol resulted in increased cravings for carbohydrates and sugar (no wonder that chocolate cake for dessert seems like such a "good idea" after a bottle of wine…). So be cognizant of the potential effects of consuming alcohol, and plan your moderate alcohol consumption just like you would any other part of your nutrition. Again, my recommendation is to incorporate it into your weekly cheat meal, and you should log any booze consumption into your MyFitnessPal tracker just like you would any other food. Be honest and transparent about what you're consuming.
Is Booze a Testosterone Killer?
It's been broadly noted that alcohol can impact testosterone levels in a negative way, and testosterone (which is present in men and women) is a key hormone for building and maintaining lean muscle. So it makes sense that you'd want to minimize your alcohol consumption just for that reason alone. However, there's some controversy as to how much alcohol it takes to make a meaningful impact – some studies even showed that moderate drinking after weight lifting actually resulted in
increased
testosterone levels. But individuals differ in how their bodies react to things and there are numerous factors that can impact hormone levels, including stress and environmental factors. Alcohol has also been shown to lower the human growth hormone (HGH) levels in the body (another naturally secreted hormone that helps you build muscle and burn fat), so that's another argument for minimizing your intake. It's also important to note that alcohol will rob your body of B-vitamins and other key nutrients, so be sure you're taking a good vitamin supplement if you drink. You should be taking a good vitamin supplement regardless, but this emphasizes the importance of it. So the jury is still out on the testosterone issue, but it's still best to practice moderation and be conservative in your drinking.
The Bottom Line
I'd be insincere if I said "whatever you do, don't drink." Because I drank – a little – while I was doing my initial 12-week body transformation program, and I still lost the weight I wanted to lose. Why? Because I counted those calories into my daily allotment. I typically drank with my cheat meal, and I logged the beer into MyFitnessPal so the carbs and calories were reflected in my daily totals. I ate a high-protein, low carb meal (my go-to meal at the sports bar I'd visit on Saturday nights was to have a chicken breast sandwich with no bun – to eliminate carbs – and instead of fries I'd have them substitute roasted veggies) to help minimize the impact of the booze, and I was strict the rest of the week. So my point is, you can continue to partake of the demon rum as long as you treat it like anything else you consume, and plan around it to minimize the impact. I still strongly recommend keeping your alchohol intake as low as possible, especially during your initial 12-week transformation phase, but I also know that there are times when you want to indulge. Again, the key is finding balance. Don't use this information as an excuse to slam a dozen Jaegerbombs every Saturday night or pound down a 12-pack of suds, making your ability to get up and work out the next day highly unlikely. Be smart, enjoy an occasional drink or two, and stick with the program. If you're diligent about your nutrition and are getting your cardio and resistance training sessions in, you will make the progress you desire.
About the author:
Steve Welch is a medical publishing professional who Got Fit, Lean and Kept His Day Job at the ripe old age of 50. If he can do it, so can you. So get on it!