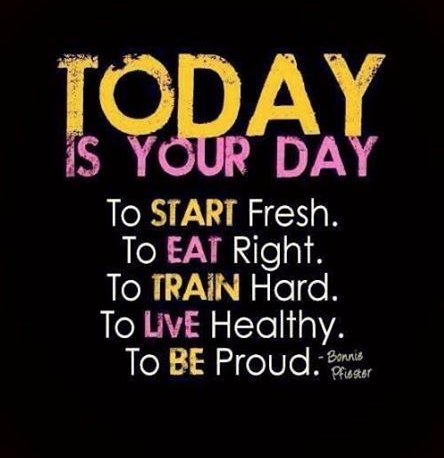 By now a number of you have probably bought the Get Fit, Lean and Keep Your Day Job book. At least I hope so. And I know there's a lot of info there. After all, I edited it! And I did the program and successfully lost 26 pounds over the 12 weeks. So, now it's time for YOU to get started. And that first step, starting a new program, is often the hardest. So here's a few tips I'll share to help you get going.
1. Don't Be Paralyzed by Information Overload
Yes, there's a ton of information
in the book.
But it's not overly complicated, so don't overthink it. Don't worry that you don't have enough information or that you still need to understand a bunch of things before you start. Get started now. You'll learn as you go, and that's ok. If you try to wait until there's some magical "perfect time," you'll be waiting a long time. So don't wait. Get started and tweak things as you go.
2. Clean up your eating and drinking
Follow the basic principles JD lays out regarding clean, healthy eating. Avoid processed foods, cut simple sugars and starches out of your nutrition plan as much as possible, and eat lean proteins, complex carbs, and healthy fats. There's a big list of all these things in the book to give you some guidance. As he says, nutrition is 80% of the challenge.
3. Get your heart rate up
Start doing 30 minutes of cardio as many times a week as you can fit it in. More if you can. And again, if you end up starting a little slower than you'd like, it's ok. You can add more time in when it's convenient. Just don't let yourself procrastinate by thinking things like "I can only do this 3 or 4 days a week right now, so I'll wait until I can do it 5 or 6." Get started, and things will fall into place. Start establishing your cardio exercise as a priority and a habit. Believe me once you start seeing results, and you will, you'll look at this as one of the best parts of your day.
4. Work your body
After you've done your cardio, do brief but intense resistance training, as outlined in the program. You can do a lot in 20-25 minutes if you're focused and work hard. You truly don't have to spend hours doing this stuff. Hit it and quit it. Fire up that calorie burning furnace (your body) and it'll pay dividends all day long.
5. Hydrate with healthy liquids
Water is king, and if you need something else, tea and coffee are the only things you need to drink. No sugary sports drinks, artificially sweetened diet sodas, or juices. Make your calories count by eating good foods (not drinking your calories) and keep your body clean from all that junk. When I stopped drinking soda and other stuff and just kept to water, coffee, and tea I felt different – better – in a single week. Do me a favor and just try it and see how it feels. I think you'll feel the difference.
6. Don't worry about the 12 week thing
Yes, the Get Fit, Lean transformation program is based on a 12-week window. But that's not all there is to it. You're going to develop healthy habits that you'll continue long after the 12 weeks – hopefully for the rest of your life. I made some dramatic changes in the initial 12 weeks and then continued to eat clean, work out, and stick to the basic principles of the program, and after almost 4 months I've kept the weight off. In fact, after the 12 weeks was up, I tweaked my nutrition and training because I'd gotten to the body fat goal I was working toward and wanted to maintain but focus more on adding a little muscle. So if you are afraid you won't "succeed" in 12 weeks, there's no need. This about making progress toward the goal of a fit, healthy new you. If you still have work to do after 12 weeks, no problem.
7. Just get started
The bottom line is that in order to make a change, you have to start somewhere. Start now!
Today is the day
to begin the transformation to a better, healthier, more positive you.
I'll be waiting on facebook to hear from you, because I want to know how you're doing.
About the author:
Steve Welch is a medical publishing professional who Got Fit, Lean and Kept His Day Job at the ripe old age of 50. If he can do it, so can you.